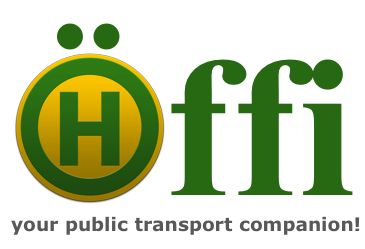 Öffi is an Android app that tells you where and when trains and busses go, including delays and replacement bus service for more and more transport authorities in Europe and beyond.
Features:
Trip planner (door to door),
live departure times (including delays),
nearby stations (also on a map) and
interactive network plans.
Also: app-widget for departures of nearby stations.
Coverage:
Germany (long-distance, regional and local, e.g. Berlin, Hamburg, Munich, Cologne, Frankfurt, Stuttgart)
Switzerland (long-distance, regional and local, e.g. Zürich, Geneva, Basel, Bern)
Austria (long-distance, regional and local, e.g. Vienna, Graz, Linz, Salzburg, Innsbruck)
Italy (long-distance, regional and local, e.g. Milan, Rome, Naples)
Belgium (long-distance, regional and local, e.g. Antwerp, Ghent, Charleroi, Brussels)
Luxembourg (long-distance, regional and local)
Denmark (long-distance, regional and local, e.g. Copenhagen)
Sweden (long-distance, regional and local, e.g. Stockholm)
Norwegen (long-distance, regional and local, e.g. Oslo, Bergen)
Poland (long-distance, regional and local, e.g. Warsaw)
U.K. (long-distance, regional and local, e.g. London, Birmingham)
Ireland (long-distance, regional and local, e.g. Dublin)
USA (local and regional, e.g. Philadelphia, Chicago)


Berlin & Brandenburg (local and regional)
Frankfurt/Rhine-Main, Kassel & Hesse (local and regional)
Munich (local and regional)
North Rhine-Westphalia (Dortmund, Düsseldorf, Münster, …) (local and regional)
Cologne & Bonn (local and regional)
Lüdenscheid & Märkischer Kreis (local and regional)
Paderborn & Höxter (local and regional)
Mannheim, Rhine-Neckar & Rhein-Nahe (local and regional)
Stuttgart (local and regional)
Neckar-Alb-Donau (Reutlingen, Tübingen, …) (local and regional)
Ulm (local and regional)
Karlsruhe (local and regional)
Trier (local and regional)
Nuremberg, Fürth & Erlangen (local and regional)
Würzburg & Regensburg (local and regional)
Strasbourg & Freiburg (local and regional)
Baden-Württemberg, Constance & Basel (local and regional)
Kiel, Lübeck & Schleswig-Holstein (local and regional)
Hannover & Lower Saxony (local and regional)
Göttingen & South Lower Saxony (local and regional)
Bremen (local and regional)
Bremen, Bremerhaven & Oldenburg (local and regional)
Schwerin & Mecklenburg-Vorpommern (local and regional)
Rostock (local and regional)
Leipzig, Halle & Saxony-Anhalt (local and regional)
Plauen & Vogtland (local and regional)
Vienna (local and regional)
Linz (bus, tram and cablecar)
Graz & Styria (local and regional)
Tyrol (local and regional)
Sydney (local and regional)
Dubai (local)
Provence-Alpes-Côte d'Azur (local and regional)


Europe (mostly long-distance)
Integration with Android and common Apps:
from Contacts: Query directions to your friends and family
to Calendar: Save queried connections to your calendar and let Android remind you
to Mail: Send queried connections to your friends
to Google Maps: Locate stations on the city map
to Google Street View: Virtual walk near a station
to Google Navigation: Pedestrian navigation to stations or to your final destination
Requirements:
Android 5 (Lollipop) or later
Internet connectivity